Welcome!
Dear Friends,
I would like to thank you for your interest and taking the time to visit our site. I feel deep gratitude especially for those who have supported us with this work. Thank you.
We have included additional information about the shamanic traditions that we work with, photos of our staff and location, and details about this shamanic retreat.
If you are interested, please Contact Us and we will be in touch with you immediately. We prefer close personal contact with each person who considers making this transformational journey.
Additionally, we are very happy to announce a new series of retreats from our own home in Arizona. Art of Transformations is a profound lifestyle experience. Our retreat uses an alchemy of raw living foods, movement, color, sound and other bridges to consciousness to re-energise your spirit! We hope that you will read about our new project and join us here at our home.
Heart of the Initiate is a project that was started 10 years ago. It has been the meeting place for many international visitors coming to work with ancient shamanic traditions. Warinei Wanare and his assistants Catalina, Andres and Sara Ñusta have shared their traditional ayahuasca ceremonies with people from all over the world, from all walks of life. Warinei has offered these ceremonies in strict accordance with the oldest and most sacred traditions of ayahuasca shamanism. These traditions are always passed forward from elder-teacher to student. This principle is the most critical aspect of this experience.
The ayahuasca ceremony is sacred. We have great admiration for the many experienced shamans across the planet who are now advancing very humble and traditional ceremonies with this sacred medicine. We have always hoped that Warinei's work has enabled others to receive lessons and find healing as we have had for ourselves. The world is at the very doorstep of many great changes. Human consciousness is waking up!
I have published articles that you can read if you like. My latest article titled Pushing Up The Sky is about the crystallization of a new form of human consciousness that we are witnessing. I hope you enjoy it.
We welcome you to Subscribe To Our Newsletter if you would like to receive our periodic updates about our most recent activities.
With enormous gratitude,

---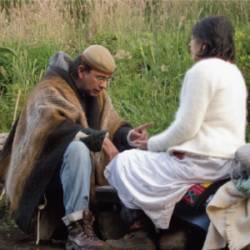 Welcome! We invite you to experience a powerful week of inner exploration and healing. We have organized a trip to Colombia for a small group of friends who wish to experience the deepest part of who they really are. We will learn directly from drinking ayahuasca medicine and participating in other shamanic traditions. This will be an intimate and profoundly deep experiential journey.
We will spend our time exploring and opening the subtle doorway through the heart energy. This is the path back to awakening your authentic self. As we work through our old, limiting patterns, we begin to heal and reclaim our lost personal power.
Since 2002, Ralph Miller has brought hundreds of people from 55 different countries to experience these sacred traditions. We continue to explore on our own personal journey and offer an approach that is friendly, safe and very personable. We maintain close personal communication with each participant during the entire process before, during and after the retreat.
Read More about this shamanic retreat